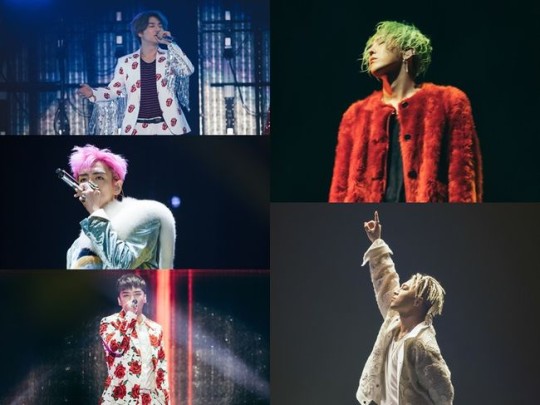 [OSEN=정준화 기자] Every performance presented by BIGBANG was the highlight of concert. That is because BIGBANG has numerous hit songs familiar to not only their fans but also the public. From the songs released 10 years ago to the songs of "MADE FULL ALBUM" released recently, the concert was filled with many hit songs.

As such, the concert was like a gift for fans. BIGBANG held "BIGBANG10 THE CONCERT : 0.TO.10 FINAL IN SEOUL" on January 7 and 8 at Gocheok Sky Dome in Seoul, to meet 60,000 fans.

The set list of the concert was like a package full of gifts. It included all the top hit songs BIGBANG has created for the past 10 years, including "LIES", "LAST FAREWELL", "LOSER", "GOOD BOY", "IF YOU", "BANG BANG BANG", "FANTASTIC BABY", "SOBER", and so on, which are so easy to sing along.

In addition, each member's hit songs were also performed: including SEUNGRI's "STRONG BABY", DAESUNG's "Look at Me, Gwisoon", G-DRAGON's "Heartbreaker", as well as GD&T.O.P's "HIGH HIGH" and GD&TAEYANG's "GOOD BOY". Then, T.O.P performed "DOOM DADA" and TAEYANG sang "EYES, NOSE, LIPS", to bring the atmosphere at the concert to the climax.

BIGBANG is an unrivalled idol boy group in Korea. The team has kept growing as an artist continuously for the past 10 years since their debut. The team's influence in the music scene has grown even bigger and bigger as time went by. Music industry insiders analyze that BIGBANG is the only idol group in Korea whose influence is growing even bigger rather than being weakened.

That was all because BIGBANG has never stopped working hard for the past 10 years. Last year, BIGBANG created numerous hits with their "MADE Project". With two new songs released every month, BIGBANG swept No.1 on music charts and the success went beyond Korea to sweep the global music scene.

With the release of BIGBANG's new full album in eight years in December last year, BIGBANG reached the peak of their career with "FXXK IT" and "LAST DANCE". Upon the release of the album, BIGBANG swept No.1 on the real-time charts of eight music-streaming websites in Korea, recording a long-run hit up until now.

Hard work is never wasted. Hard-work and consistency are always the right answer. BIGBANG began from scratch, all on their own, reaping harvests just with their arduous efforts and hard-working. For such 10 years, BIGBANG has garnered music fans' trust in their music, being recognized by the public.

2017. 1. 9.