[Oh! SEN Focus] 3,285 days of record left in the music scene by BIGBANG who celebrates 9th anniversary of debut today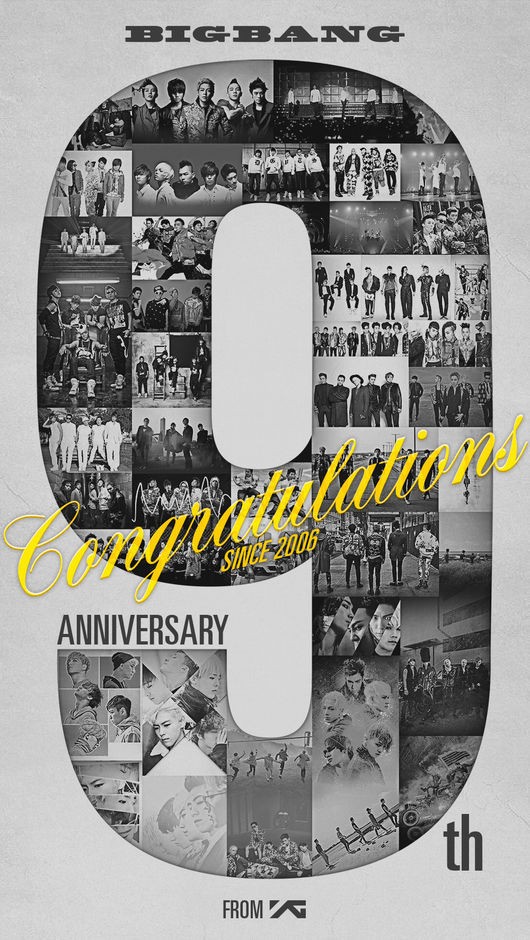 [OSEN=??? ??] Nobody could deny it. BIGBANG is the best idol boy group in Korea both in the name and substance. They have performed for nine years, setting a lot of unprecedented records and playing the role of trailblazer in the Korean music scene. While enjoying an enormous popularity, BIGBANG have given birth to new phenomenon such as making all their new songs in an album be ranked in top places on charts and sweeping the No.1 place on all major music charts, and they became the first-ever Korean idol group whose album in the Korean language entered Billboard's main chart.
Their rise was really a "big bang". YG's head producer YANG HYUN SUK drew a big attention for the team even before their debut, by showing the process of BIGBANG's preparation for official debut in a real variety show, which was first such trial in Korea. Then, BIGBANG finally released their debut album "Bigbang" in August, 2007. That was the first-ever "mini-album" in Korea.
Then, BIGBANG created sensation in the music scene. "LIE", "LAST FAREWELL", "FANTSTIC BABY", and other numerous hit songs have swept music charts in and out of the country, as well as music shows and music awards for the past nine years. BIGBANG have always been the top idol group for those years.
Notably, BIGBANG's "Lollipop" stayed in the No.1 place on Melon for five consecutive weeks even though it was a jingle for a commercial film, and G-DRAGON's solo album "Heart Breaker" released in 2009 succeeded in making all the 10 songs in it take top ranks on charts. BIGBANG's fourth album released two years after that swept all the music charts in Korea, with all the songs in it staying in top places. All the songs of BIGBANG' fifth mini-album became title tracks, and that was the first and last case in Korea's music scene.
BIGBANG's "unprecedented records" were set not only in Korea but also in foreign countries. They became the first Korea singer to make the main page of Grammy.com, and "ALIVE" released 2012 entered Billboard's main chart for the first time for an album in the Korean language. BIGBANG is also the first Korean singer who entered American iTunes' top 10 (with fourth mini-album), and has the largest-ever number of foreign audience for their concert. It is only understandable why world-class brand Louise Vuitton extended their hand to YG. That was also the first and last such case in Korea.
BIGBANG celebrates the 9th anniversary of their debut today (August 19). Currently, the team is writing new history in the Korean music scene once again, with another new trial of releasing two new songs every month. Such an unprecedented project titled "MADE" began in May this year, to achieve great success as expected.
In May, first single "M" was released and its new song "LOSER" and "BAE BAE" marked the successful beginning of the project by taking the No.1 on a variety of on-line music charts and music shows. In June, second single "A"'s "BANG BANG BANG" and "WE LIKE 2 PARTY" swept music charts once again, showing BIGBANG's enormous potential. Then, in July, third single "D"'s "IF YOU" and "SOBER" were released, to fill the summer season with tender emotions and cool mood.
This month, a unit team of BIGBANG proved their formidable power once again. GD&TOP unit's new song "ZUTTER" and BIGBANG's "LET'S NOT FALL IN LOVE" competed with one another to take the No.1 and 2 places on charts. The new songs were also ranked in the No.1 on iTunes chart of 16 countries, showing their global popularity.
Plus, BIGBANG has been carrying out world tour where they meet 1.4 million global fans, along with the new release for every month. The tickets for the tour were sold out within a few minutes of opening, in every city where a concert is held.
Music fans are paying keen attention to what kind of new history BIGBANG will write again in the music scene.
2015. 8. 19.
Source:
http://www.yg-life.com/archives/54381?lang=en