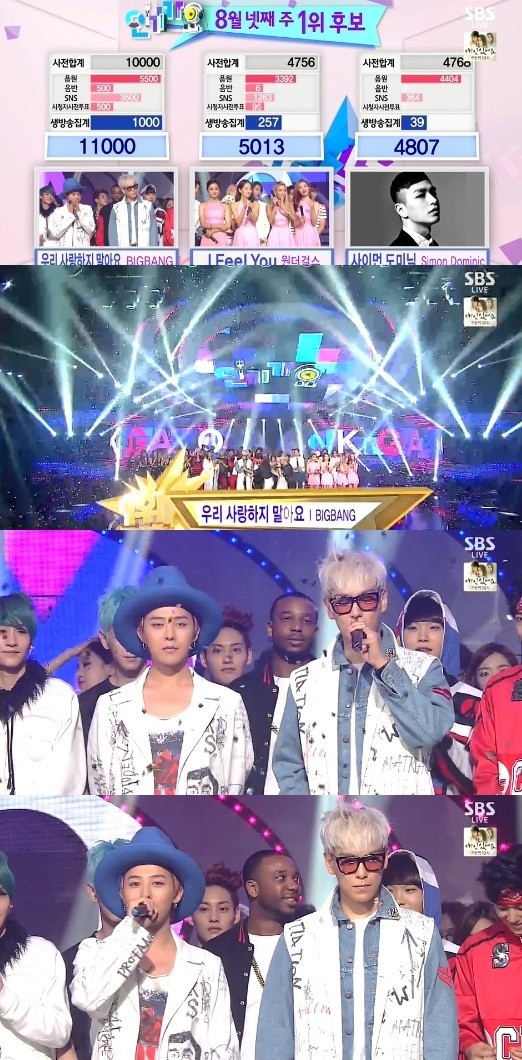 ? Inkigayo
[??????=??? ??] BIGBANG topped the charts of Inkigayo yet again.
On SBS's Inkigayo aired on August 23, BIGBANG became No. 1.
BIGBANG's "LET'S NOT FALL IN LOVE" won over Wonder Girls' "I Feel You" and Simon Dominic's "Simon Dominic" and took the trophy.
T.O.P thanked the fans and YG staff, and GD added, "Inkigayo is the best!" after winning the trophy.
Meanwhile, BIGBANG, Girls Generation, Wonder Girls, Hyuna, SG Wannabe, T-ara, B1A4, Vixx LR, Baechigi, Juniel, Yoo Seung-woo, JJCC, Yun Boon Hong, Eun Gaeun, and Kim So-jung appeared on SBS's Inkigayo on August 23.
2015. 8. 23.
Source:
http://www.yg-life.com/archives/54614?lang=en