[OSEN=???? ????] Everyone thinks that exciting dance music is a perfect match for hot summer. That is a general perception in the music scene as well. The master of summer songs? Cool and DJ DOC followed such expectations and became the legend. That was just like "Beach Boys" is always the choice for young Americans' summer vacation for riding on a convertible car in Californian beach.
BIGBANG unveils their third new release for this year, One of the new releases will be exciting dance music "SOBER". It sounds like an exciting dance music just perfect for a summer-night party and seems to be living up to the typical expectations for pop music in summer. Another new song "IF YOU" is known to be the most sentimental song among all BIGBANG music. Rapper T.O.P and G-DRAGON just sing in the song, without even a word of rapping. BIGBANG's sad song for the most exciting month of the year? What would be the reason?
"I was overwhelmed with my emotions while listening to the song. It will be the saddest one among all BIGBANG songs released for the previous nine years. I'm in my forties but was overwhelmed by the song. That means that not only teenagers and twenty-somethings who like BIGBANG but also people of all generations will be touched by it. I think it is the first time for me to get more excited than BIGBANG themselves about their new release."
That is how YG's head producer YANG HYUN SUK talks about "IF YOU".
He guarantees that it is the "saddest-ever song in BIGBANG's history", and gives his two thumbs up to it, saying "it is my favorite song in BIGBANG's new album". Of course, that is his personal opinion. He believes, "The most dangerous and imprudent moment for a producer is when he is convinced that he knows everything about the public's taste".
The teaser image on which five BIGBANG members' faces looking down are printed against a pale pink backdrop is well expressing sad and sentimental emotions. As such emotions are expressed only with a teaser, the song itself will definitely make listeners burst into tears, as YANG said.
In the beginning of an interview with YANG, he abruptly asked, "Isn't it strange that BIGBANG is releasing a slow and sad song in this hot summer season?" "IF YOU" is a ballad and "SOBER" is an exciting summer song that perfectly goes with the season. It is BIGBANG's second time to release new songs in the summer season, seven years since their mini-3rd album that included "HARU HARU".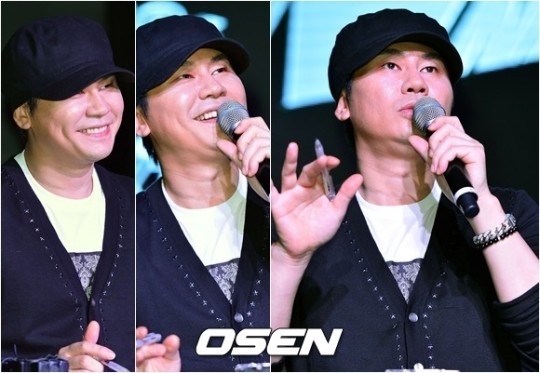 "I liked other songs of 'MADE' album, but I thought 'IF YOU' should be released now, if what I felt could be felt by others, too."
BIGBANG now explodes the third dynamite of their project of releasing new songs for five consecutive months in 2015. Two songs will be released for July as well. One is a very sad, slow-tempoed song and the other is an exciting dance song that perfectly fits the summer season. Another round of BIGBANG vs. BIGBANG competition is expected for the music scene of July.
According to a YG insider, YG was not sure about BIGBANG's new release for July, because of their busy schedule of world tour, TV appearance, as well as participation in a variety of events. However, YANG decided to proceed with the new release as planned, as he thought "keeping the promise made to fans is the top priority". YANG explains, "because promise should be kept in any case".
As other songs of "MADE SERIES" including "LOSER", "BAE BAE", "BANG BANG BANG", and "WE LIKE 2 PARTY" enjoyed a big popularity, expectations for the new songs for July are also rising higher.
YANG said, "The two BIGBANG songs to be released in July are completely contrasting with one another, as one is an exciting summer song and the other is a sad and sentimental song. Notably, "IF YOU" is a genuine ballad, so rapper GD and T.O.P sang with the other members. That will be a whole new experience for fans".
BIGBANG's "MADE" project is going on well as expected. "LOSER" released last month stayed in the No.1 place on charts for almost a month, and "BANG BANG BANG", a new song released in June, is also recording a long-run, following the footsteps of "LOSER". The music videos of the four songs released in "MADE" project so far have also set a record of 100 million views on YouTube all together.
Meanwhile, BIGBANG has successfully finished their concert held in Shanghai from the 19 to 21, which captivated 30,000 local fans. They will continue with the China tour by having concert in Dailan and Wuhan on the 26 and 28, respectively.
2015. 6. 29.
Source:
http://www.yg-life.com/archives/52850?lang=en