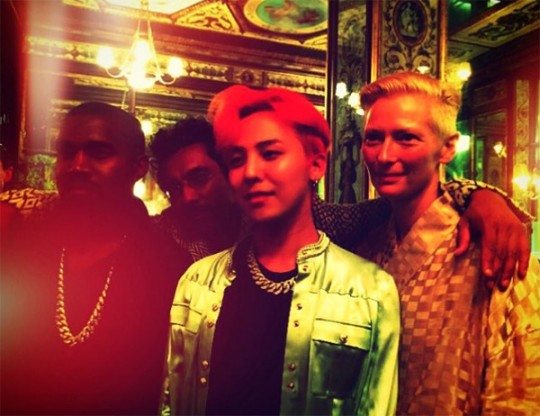 [OSEN=??? ??] BIGBANG's G-DRAGON boasts strong connections with a wide range of friends. In the picture that G-DRAGON posted on SNS on July 8, he is posing shoulder to shoulder with the global artists, designers, and actors at a dinner party. From the left is rapper Kanye West and designer Haider Ackermann, and on the right is Tilda Swinton, an actress from the movie "Snowpiercer."
No one in Korea has such personal connection with world stars like G-DRAGON. After becoming a global star himself, G-DRAGON is receiving invitations to many different big events as his talent is being recognized in modern art as well as fashion world. It would not be an exaggeration to say that he is the only Asian artist to be invited to every Chanel fashion show as a VIP.
G-DRAGON drew an immense attention last year after he posted a picture on his Instagram with a caption, "It's an honor to meet the amazing Azzedine Alaia and Carla Sozzani at the Saint Laurent show."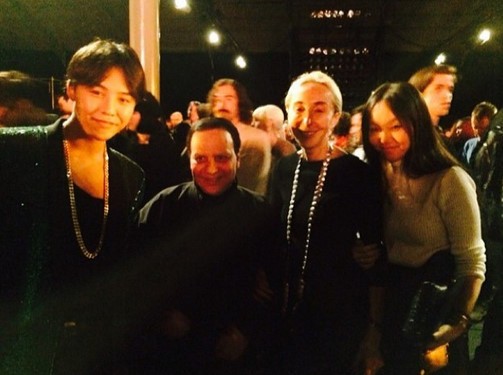 In the picture above, G-DRAGON looks natural posing with an Algerian designer Azzedine Alaia and the founder of a global lifestyle concept store "10 Corso Como" Carla Sozzani. He himself looks fashionable with neat hair style and simple but elegant black jacket. The picture was took last year on June 28 when he traveled to Paris to attend the Saint Laurant 2015 S/S Fashion Show as the only Asian artist who was invited to the show.
G-DRAGON is also one of the most adored artists by YG Entertainment's main producer Yang Hyun Suk. Yang Hyun Suk never approves anyone who does not work hard, even if he or she is a prodigy, so being recognized by him means that G-DRAGON earned his credit. In fact an English-speaking manager is always accompanying G-DRAGON so that he can continue to study and use English amidst his hectic schedule. G-DRAGON's success probably comes from his will to never remain complacent, but always aim higher to become the best in everything.
When it comes to personal connection, 2NE1's leader CL is in the same vicinity as G-DRAGON. CL recently updated several pictures on her Twitter account with a caption that goes, "CL + MLEY CYRUS," and "CL + JEREMY SCOTT."
In the picture, CL is looking at something with Miley Cyrus with a smile on her face. Then in another picture with Jeremy Scott, CL wrapped her arm around his neck, showing off their friendship. Everyone knows that they are top-class celebrities to be acquainted with.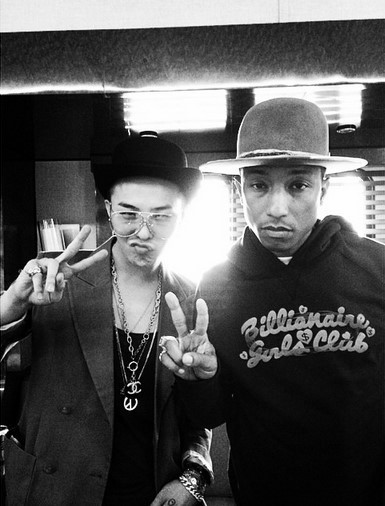 CL's personal connection with top celebrities does not stop there. She's also known to be good friends with the hip-hop godfather Snoop Dogg and The Black Eyed Pea's will.i.am. CL's personal connection is a proof that she is also a global star.
What attract world stars, famous celebrities, CEOs of global fashion brands, and world-renowned IT leaders to YG artists? One explanation would be that YG is one of the most globalized entertainment management companies in Asia and has secured content that are unequaled. The higher the expectation toward YG, the more the investment injected to the company, allowing YG artists like BIGBANG, 2NE1, and Psy advance into global music scene.
It is a known fact that world famous pop musicians and producers, along with Hollywood super starts like Will Smith and Justin Bieber purposely schedule to visit YG building when they first arrive in Korea.
2015. 7. 9.
Source:
http://www.yg-life.com/archives/53206?lang=en
Related:
G-DRAGON, What Planet Are You From? ?
G-DRAGON, What Planet Are You From? ?