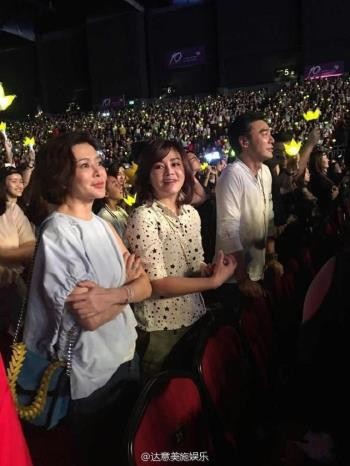 [마이데일리=베이징 이용욱 특파원] A number of Hong Kong stars came to see BIGBANG's concert.
Sina.com cited news reports by Hong Kong media outlets that famous stars including Jackie Chan, Rosamund Kwan, and Kenny Bee were spotted at BIGBANG's Hong Kong concert, which took place on July 22.
According to the article, Jackie Chan even gave flowers to BIGBANG himself to welcome the group, and Kenny Bee and his wife came to the concert with Rosamund Kwan. Other Hong Kong stars that came to BIGBANG's concert include Maple Hui and girl group Super Girls.
The concert began at 8:15 PM, and BIGBANG members said hello to the audience mostly in English. G-DRAGON shouted "I Love Hong Kong!" and made the audience cheer loudly.
Sina.com reported Chinese people's response: People wrote comments online such as "Even top Hong Kong stars watch BIGBANG's concert standing up" and "It's good to m all relaxed and happy."
2016. 7. 24.