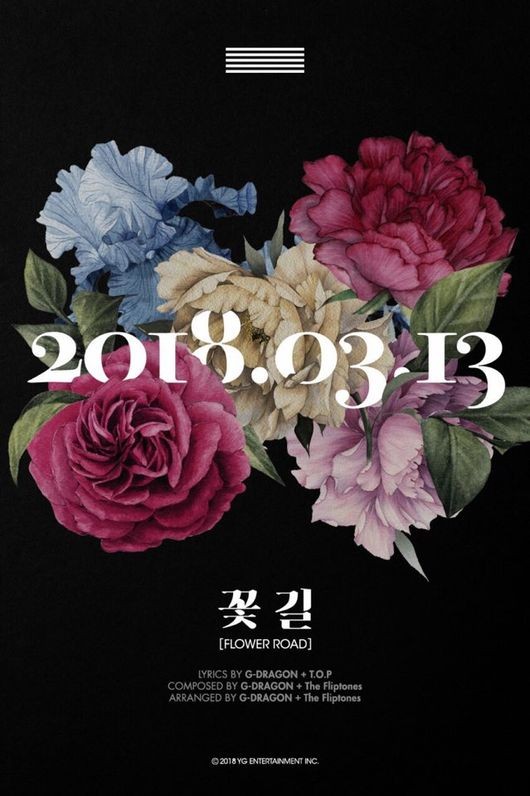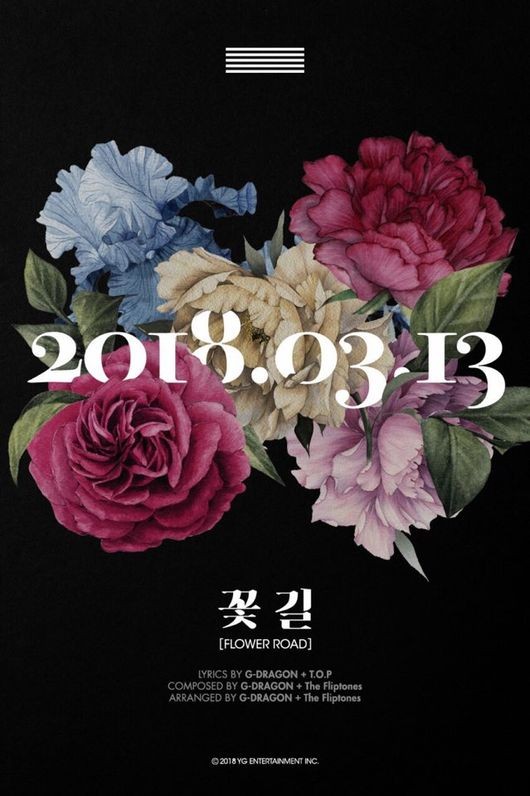 [OSEN=김은애 기자] BIGBANG's upcoming surprise single is unveiling its details, little by little.
Today (10th), YG Entertainment revealed the fact that the title of BIGBANG's upcoming single which will be released on the 13th is 'FLOWER ROAD', on their official blog. The multi-colored flowers in harmony with each other on the teaser poster with the song's title captures the viewers' attention. The lyrics written by leader G-DRAGON and oldest member T.O.P adds ardent emotions to the song. BIGBANG's feelings toward the fans while facing farewell due to enlistment are engraved into the lyrics.
G-DRAGON, who also serves as a producer for BIGBANG, participated in the composing of the song as well. In the creation of the melody, he collaborated with The Fliptones, who also participated in creating GD X TAEYANG's 'GOOD BOY' and TAEYANG's 'Stay With Me'.
'FLOWER ROAD' was created by members of BIGBANG with their upcoming enlistments in mind, while they were working on their latest official album, 'MADE'. That is precisely why the song will be released on the date of DAESUNG's enlistment on the 13th, following TAEYANG's enlistment on the 12th.
The song 'FLOWER ROAD' is receiving high attention since it will be a song by BIGBANG to be released in a year and 3 months. Furthermore, since all 5 members were featured in the song, the surprise release will be fruitful showers for the fans in and out of Korea, who will miss BIGBANG while the group is on break while the members serve military duty.
Following BIGBANG's oldest member T.O.P, G-DRAGON enlisted in the 'White Skull' Division located in Cheorwon, Gangwon-do on February 27. TAEYANG will enlist in the 'Blue Star' 6th Division Recruit Training Center located in Cheorwon, Gangwon-do on the upcoming 12th, while DAESUNG will enter the 'Ikija' 27th Division Recruit Training Center on the 13th. The youngest member SEUNGRI is currently preparing for his solo album which will be released this year, as well as performing his scheduled activities in and out of Korea.
2018. 3. 10.