[OSEN=??? ??] BIGBANG is definitely providing a source of entertainment for the fans. It is the two completely different charms—powerful "BANG BANG BANG" and an easygoing, chilled "WE LIKE 2 PARTY."
At 12am of June 1, BIGBANG unveiled the second album "A" of the MADE SERIES. The album features "BANG BANG BANG" and "WE LIKE 2 PARTY," and these two tracks are quite a change from the previous "LOSER" and "BAE BAE." Fans are truly entertained by BIGBANG's different colors.
"BANG BANG BANG" is said to be an extension of "FANTASTIC BABY" and "LIES," with fast and powerful beat that leaves a strong impression. It is dynamic yet upbeat, drawing in the listeners.
About "BANG BANG BANG," GD once explained, "The song reminds me of a powerful performance that is associated with BIGBANG. 'LOSER' and 'BAE BAE' are more of sentimental tracks, while this one is upbeat and fun like 'FANTASTIC BABY'".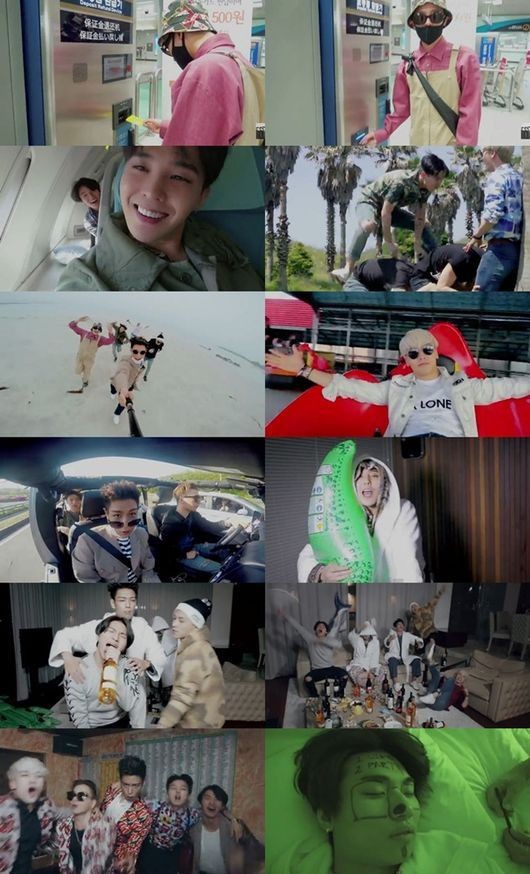 The music video of "BANG BANG BANG" unveiled on the same day as the track itself attracted much attention with its fiery power. BIGBANG with vivid makeup appears in the dark, expressing their performance in such dynamic ways. It is like a blockbuster movie. The video featuring BIGBANG's charisma and their identity are arousing much attention in the music world.
On the other hand, "WE LIKE 2 PARTY" captures BIGBANG in the most candid selves. It is different to "BANG BANG BANG" in the sense that they look nothing like themselves in the other track. From the famous subway appearance to Jeju island, BIGBANG is featured living their daily lives.
They let go of their charisma and chill out in the video, being playful with each other. It is almost child-like. They doodle on DAESUNG's face while he is fast asleep. All of these look very natural.
They unveiled the performance for the first time on Mnet's M Countdown on June 4. Fans' reaction was simply mind-blowing. For "BANG BANG BANG" they showcased a sharp and structured choreography with powerful ambience, while for "WE LIKE 2 PARTY" they sang all chilled and relaxed. Both left such powerful impressions.
BIGBANG is certainly entertaining the viewers from "LOSER," "BAE BAE," "BANG BANG BANG" to "WE LIKE 2 PARTY," which are all part of the MADE Project. Each song carries different colors. With two more singles left to be unveiled until August, they are attracting much attention already for their future songs.
2015. 6. 5.
Source:
YG Life