[OSEN=??? ??] Why as GD the one for cotemporary art? It seems like the decision was based on his history of leading the trend and his status of being in the center of pop culture. He can surely be the bridge between contemporary art and pop culture. Kim Hong Hee, the director of Seoul Museum of Art commented, "We can expand the boundaries of contemporary art through G-DRAGON. That makes this exhibition meaningful."
A press conference was held on the 1
st
floor of Seoul Museum of Art under the title "PEACEMINUSONE: Beyond the Stage" on June 8.
Before kicking off the conference, Kim said, "I send my gratitude and congratulations to G-DRAGON who actively participated and supported this exhibition. The exhibition was made meaningful as GD helped us expand the boundaries of contemporary art. We expressed GD's musical philosophy through the language of visual art. We expect such approach to attract a lot of young and new audience. Working with GD is a challenge and at the same time pressure. Please come enjoy our exhibition."
Like her comment, collaborating with GD would have been big pressure. But there is one solid reason she had to go hand in hand with him. He stands in the center of pop culture, and he is a living art as we can see from his composing of songs and fashion sense. He is almost the only musician who encompasses the taste for general public, artistic talents and an enormous influence on pop culture.
By partnering with GD, the art world can arouse much attention at once. GD also understands clearly his role of standing between art and pop culture. He commented, "If I can help someone remember an artist or one piece of artwork, then that is one big achievement."
He added, ""When I announced the launch of my exhibition many had questions and curiosity for it. I am a musician and a pop artist.
Until now I have been collaborating with various artists in the realm of music to fulfill what I do not have with what they have, creating this sense of positive synergy."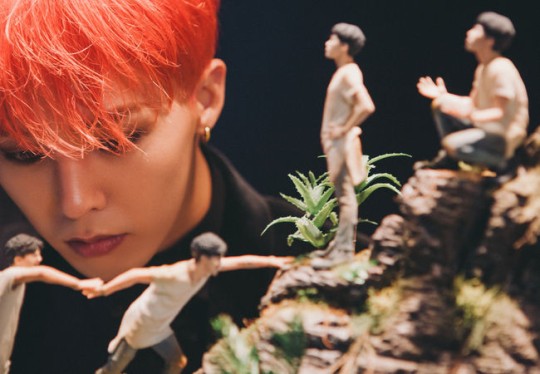 "I would like to use this opportunity to collaborate with artists in the realm of visual art to have an exhibition that crosses over to contemporary art from the genre of music. I would like to be the bridge to introduce domestic artists to the public who are not familiar with art or who find art unapproachable," he continued.
"I still don't know much about art, but I have this huge fantasy about beauty. Fashion, women, and music. Pretty things make me happy. The exhibition rooted from simple thoughts like these. I hope you all enjoy the exhibition."
The exhibition will be held from July 9 to August 23 at the Seoul Museum of Art. He will be in charge of creating a junction between pop culture and contemporary art through collaboration with artists home and abroad, all under the title "PEACEMINUSONE: Beyond the Stage."
This is meaningful as GD will be cutting across all the boundaries of fashion, design, music and more by expressing his cultural vision in the language of contemporary art. This will help art become more approachable while making an opportunity for the entire range of population to enjoy art.
12 artists from South Korea and abroad including Michael Scoggins, Sophie Clements, James Clar, Universal Everything, Quayola, Fabien Verschaere, Society of Architecture, Kwon Oh Sang, Bang & Lee, Park Hyung Geun, Sohn Dong Hyun, and Jin Gi Jong will be displaying their work. GD worked on selecting the artists for one year, while collaborating with them to convey the idea of "PEACEMINUSONE."
The title "PEACEMINUSONE: Beyond the Stage" is another name for the world that GD imagines—he idealizes PEACE but lives in a world deficient (MINUS) of it. It is the difference (ONE) between reality and the ideal world.
The exhibition displays a total of 200 artwork including sculpture, installation, photographs and painting work that were born from the artistic solidarity formed between GD and the artists. The exhibition will be held overseas as well, going from Seoul to Shanghai, Singapore and more, to be introduced to international audience.
2015. 6. 8.
Source:
http://www.yg-life.com/archives/52290?lang=en