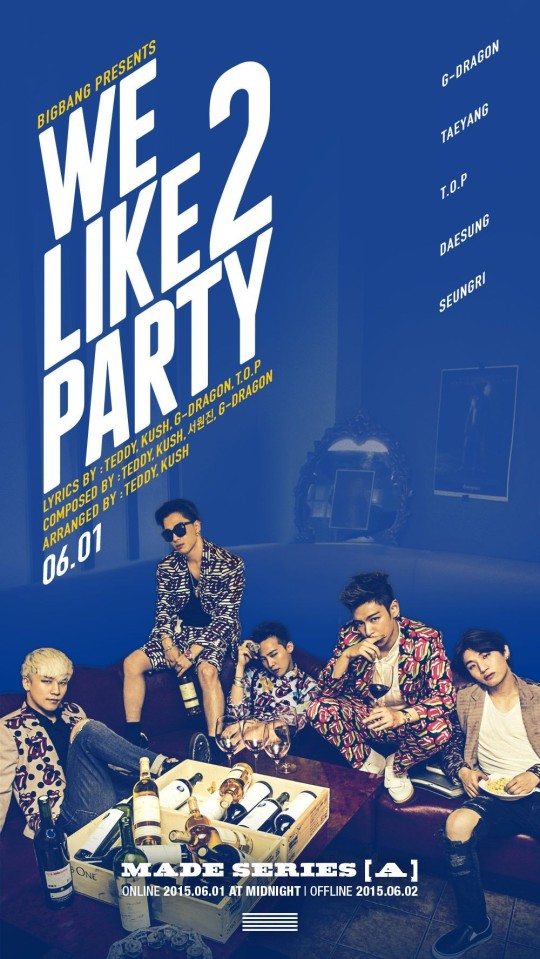 [?????=??? ??] Anybody would be dumbfounded to current situation on music charts.
BIGBANG swept music charts once again with new release "BANG BANG BANG" and "WE LIKE 2 PARTY". As "LOSER" and "BAE BAE" released last month are still in top places on charts, BIGBANG now has four songs in top 10. BIGBANG releases new songs until September this year, so you may see only BIGBANG songs in the top 20 of music charts by then.
BIGBANG released their second album "A" of "MADE SERIES", on the 2nd of June. Two new songs "BANG BANG BANG" and "WE LIKE 2 PARTY" took the No.1 and No.2 on the real-time chart of nine music-streaming websites only naturally, upon their release.
As already known, "BANG BANG BANG" is a cool song that goes well with summer, which is as exciting as "FANTASTIC BABY". Its dynamic and exciting feel creates a perfect harmony with the summer season, so the song is expected to stay in top places on charts until the end of this summer. It may be the song you can hear around the clock near beach.
TAEYANG's sophisticated vocal and T.O.P's powerful rap sound captivating. A kaleidoscopic development within the song just like that of "FANTASTIC BABY" also sounds very interesting.
"WE LIKE 2 PARTY" is a song of a sophisticated melody line like that of a Western pop song, which is perfectly sung by BIGBANG's vocalists. Easy vocal of DAESUNG and SEUNGRI whose skills have further evolved, sounds comfortable. As the title itself tells, it is a typical party song that delivers young BIGBANG's energy directly to listeners.
It seems that BIGBANG's strategy is working once again. Success of the team's strategy to release new songs every month to make the year 2015 the year of BIGBANG, is just around the corner.
2015. 6. 2.
Source:
YG Life