[?????=??? ??] On April 26, I met YG's head producer YANG HYUN SUK in an after-party of BIGBANG's world tour concert. We naturally talked about BIGBANG who were to come back in May. It was immediately after YG's announcement about the plan for BIGBANG's comeback project "MADE SERIES" to release new songs on the 1 of every month from May to August, and then finally a full-length album in September.
YANG explained about why he decided to carry out "MADE SERIES", "After the completion of BIGBANG's new album, I thought. It is BIGBANG so the title track of their new album will stay in the No.1 place on charts for some weeks. However, in that case, only title tracks can stand under the spotlight. I thought the rest of the songs were too good to be just forgotten. So, we had meetings. BIGBANG will release two songs every month and they will shoot music video for at least one of the two, so the members and fans both will like it".
Then, YANG set an ambitious goal, saying, "If I had a wish, I want BIGBANG take the No.1 on monthly chart for five consecutive months from May to September. Then, he went on to set the goal for the year 2015, "I know it's just a formality, but I want BIGBANG to receive all of the album's, song's, and singer's awards in the end-of-year music awards. I will do my best for promotion, to lead every song of the team to success. BIGBANG is coming back after three years of break, and nobody can deny the fact that they are the foundation of YG. It will not be easy, but I'll do my best".
Then, as of July 2 in the morning, total six songs including "M"'s "LOSER" and "BAE BAE", "A"'s "BANG BANG BANG" and "WE LIKE 2 PARTY", and "D"'s "IF YOU" and "SOBER" have been unveiled. Those songs have taken the No.1 on music charts upon their release, creating sensation. Their music videos are also well-made, and the number of views of those videos has surpassed 100 million on YouTube, drawing global popularity.
Can such popularity of BIGBANG continue until September? Can BIGBANG sweep end-of-year music awards as YANG wishes? I carried out an interim evaluation on BIGBANG's performance so far, based on the record of their music, video (YouTube), and TV performances have set.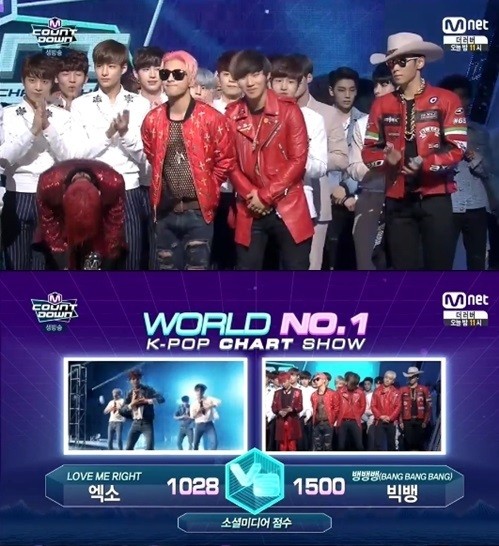 Report card on TV appearances
BIGBANG left a strong impression. They did not appear in TV shows as frequently as other idol groups, but showed an unrivalled presence every time they appeared in TV. Since their first comeback performance in SBS "INKIGAYO" when "M" series was unveiled on May 1, BIGBANG's flagship sophisticated image drew big attention. In the first week, they appeared only in "INKIGAYO", not any other TV music shows.
One week after comeback, BIGBANG's true power was shown in TV shows. Beginning from MBC "Show! Music Center", they took the No.1 of SBS "INKIGAYO", Mnet's "M-Countdown", and "Music Bank". In that week, BIGBANG performed on the stage of "M-Countdown", too. Even though BIGBANG appeared in TV music shows selectively, they earned total 9 No.1 trophies with "M" during May.
In the following month when "A" was released, BIGBANG could not appear in as many TV music shows as they did in May because of schedules for overseas performances, but they earned quite many No.1 trophies. However, there were some controversies in June. Because of a disagreement with "INKIGAYO", a controversy over "arrogance" was triggered. The staff of "INKIGAYO" took issue with the fact that only some of the BIGBANG members came to receive the trophy and announced that BIGBANG will not be able to appear in the show any longer. In the end, "INKIGAYO" gave the trophy to BIGBANG even though it was belated.
BIGBANG's performance in entertainment shows was more impressive than their comeback performance. In May, all the members appeared in KBS 2TV's "Happy Together", which was their first appearance in TV entertainment show in nine years. They made viewers laugh from the beginning to the end, unveiling a lot of stories they experienced so far. The staff of the show also gave BIGBANG a special treatment, giving 100 minutes for the special edition with BIGBANG.
In SBS "Running Man" in June, BIGBANG became easy and free to their heart's content. They competed so passionately for every game, unveiling their fun and friendly personalities. The day's episode of "Running Man" recorded the highest viewership rating in three months. Plus, BIGBANG boasted their talent in "Yoo Hee-yeol's Sketchbook", showing veteran fan service and stage manners by going back and forth between the stage and the audience seat.
Producer Kim Gwang-soo of "Happy Together" laughed and said, "The atmosphere was so good in the shooting, and the members naturally led the show with their conversations. The chemistry between themselves was much more matured and they had a lot to show, with their episodes accumulated so far. It took so long for editing, because there were a lot of fun stories and entertainments. Actually, some parts were more sensational but they were cut out in the process of editing".
2015. 7. 2.
Source:
http://www.yg-life.com/archives/53011?lang=en