[?????=??? ??] On April 26, I met YG's head producer YANG HYUN SUK in an after-party of BIGBANG's world tour concert. We naturally talked about BIGBANG who were to come back in May. It was immediately after YG's announcement about the plan for BIGBANG's comeback project "MADE SERIES" to release new songs on the 1 of every month from May to August, and then finally a full-length album in September.
YANG explained about why he decided to carry out "MADE SERIES", "After the completion of BIGBANG's new album, I thought. It is BIGBANG so the title track of their new album will stay in the No.1 place on charts for some weeks. However, in that case, only title tracks can stand under the spotlight. I thought the rest of the songs were too good to be just forgotten. So, we had meetings. BIGBANG will release two songs every month and they will shoot music video for at least one of the two, so the members and fans both will like it".
Then, YANG set an ambitious goal, saying, "If I had a wish, I want BIGBANG take the No.1 on monthly chart for five consecutive months from May to September. Then, he went on to set the goal for the year 2015, "I know it's just a formality, but I want BIGBANG to receive all of the album's, song's, and singer's awards in the end-of-year music awards. I will do my best for promotion, to lead every song of the team to success. BIGBANG is coming back after three years of break, and nobody can deny the fact that they are the foundation of YG. It will not be easy, but I'll do my best".
Then, as of July 2 in the morning, total six songs including "M"'s "LOSER" and "BAE BAE", "A"'s "BANG BANG BANG" and "WE LIKE 2 PARTY", and "D"'s "IF YOU" and "SOBER" have been unveiled. Those songs have taken the No.1 on music charts upon their release, creating sensation. Their music videos are also well-made, and the number of views of those videos has surpassed 100 million on YouTube, drawing global popularity.
Can such popularity of BIGBANG continue until September? Can BIGBANG sweep end-of-year music awards as YANG wishes? I carried out an interim evaluation on BIGBANG's performance so far, based on the record of their music, video (YouTube), and TV performances have set.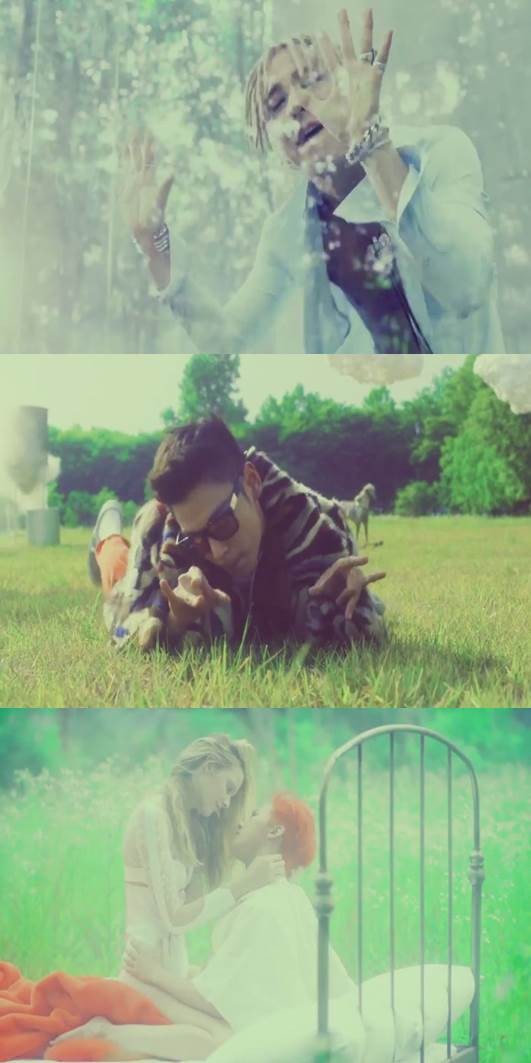 Report card on music video+YouTube
110 million. That is the sum of views of BIGBANG's music videos released so far since May. "LOSER" has the biggest number at 39 million, and "SOBER" surpassed 2 million views within 15 hours from its release. Compared to usual number of views for domestically-popular Korean idol groups who record 5 million or for globally-popular Korean idol singers who record 10 million, the number of views of BIGBANG music videos is proving the team's global popularity.
The number has not yet approached the biggest number of hits recorded by BIGBANG's mega-hit "FANTASTIC BABY" (150 million), but people expect that 100 million will be surpassed soon as BIGBANG's popularity is spreading throughout the world.
Such popularity of BIGBANG's music videos comes from, of course, their outstanding quality. YANG said that about 2 billion won was spent only for production of a teaser image for BIGBANG's world tour. That shows how YG cares about the quality of video contents.
For BIGBANG's "MADE SERIES" as well, enormous investment is put in every song, to maximize the quality. The video of "LOSER" was all shot in the United States. It drew a big popularity, by showing each member's acting of inner pain just as the lyrics of the song say. Notably, the video of May's second title "BAE BAE" stands out with colorful and sophisticated images. A bold and somewhat sensational fantasy was expressed in BIGBANG's trendiness.
Critic Kim Yoon-ha said, "What made 'BAE BAE' funnier was its music video. The motto of every idol group is to play on the stage, but that is now easy. It is never easy to naturally play on the stage with all your heart. However, BIGBANG was just like that for 'BAE BAE', from the song itself to their performance of the song on the stage. They were not interested in looking good, and did not care about being silly. I liked them really enjoying and playing on the stage. Then, their comic and witty expression of BIGBANG's flagship 'sex appeal' also made a good harmony with the music itself."
The video of "BANG BANG BANG" was directed by Seo Hyun-seung, who had directed the video of "FANTSTCI BABY", too. Fancy lighting, intense images, and dynamic but free performances are eye-catching. BIGBANG members show free and easy characters in the video of "WE LIKE 2 PARTY", and they go unsober in the video of "SOBER". In a making video, G-DRAGON talked about the concept of the music video, "It gives a dreamy feel. We're not sober now".
As G-DRAGON explains, BIGBANG members express an unsober state of mind by circling repeatedly on a rotating stage, in the music video of "SOBER". G-DRAGON and blond girl's kiss, as well as DAESUNG's crazy drum performance are also eye-catching.
2015. 7. 2.
Source:
http://www.yg-life.com/archives/53005?lang=en