[OSEN=??? ??] Group BIGBANG has successfully finished the Dailan and Wuhan concert of "BIGBANG 2015 WORLD TOUR 'MADE'' in China.
The concert was held on the 26 and 28 at Dailan Sports Center Arena and Wuhan Sports Center Gymnasium, respectively. Following the record of the concerts held in Guangzhou, Beijing, Hong Kong, and Shanghai, the Dailan and Wuhan concert also recorded all tickets sold out, proving BIGBANG's explosive popularity and ticket power in the country.
BIGBANG began the concert by showing passionate "cowboy dance", which is the point dance of new song "BANG BANG BANG" released in June, to be acclaimed by fans. Then, they performed past hits including "BAD BOY", "LIE", and "HARU HARU", as well as this year's news song "LOSER" and "BAE BAE" released in May, to electrify the fans. Plus, they also captivated the audience by showing perfect solo performances.
G-DRAGON greeted local fans by saying "Long time no see" in Chinese, and the other members also communicated with local fans during the concert by speaking some Chinese words. Fans also spared no support for BIGBANG, singing along all the songs in Korean.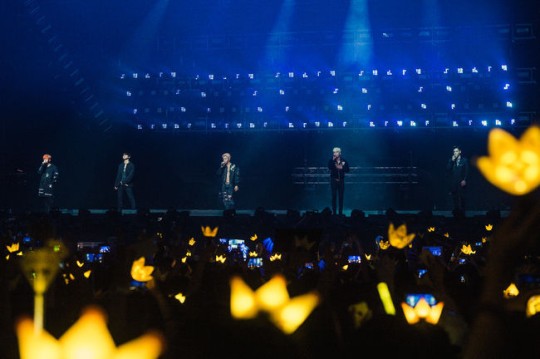 G-DRAGON also drew a big attention by posting a photo of the concert hall filled with golden waves on his SNS with a phrase "THANK YOU FOR EVERYTHING AND I LOVE YOU", after the end of the Dailan and Wuhan concert, to express his gratitude for fans.
Meanwhile, BIGBANG continues with their world tour in Thailand on July 11 and 12, and then goes on to hold 70 concerts in 15 countries including the United States and Canada, to meet 1.4 million fans around the world.
In addition, while BIGBANG is busy having the world tour and performing for new songs of "MADE SEIRES", "IF YOU" and "SOBER", the title tracks of "MADE SERIES"'s third single "D", will be released on July 1 at 0 o'clock on-line, and on July 7 off-line, to create another round of BIGBANG sensation in July, following May and June.
On the 30 from 11pm, one hour before the release of the new songs, BIGBANG will be with fans in "BIGBANG COUNTDOWN LIVE MADE SERIES INTERIM CHECK" which will be aired on NAVER.
2015. 6. 29.