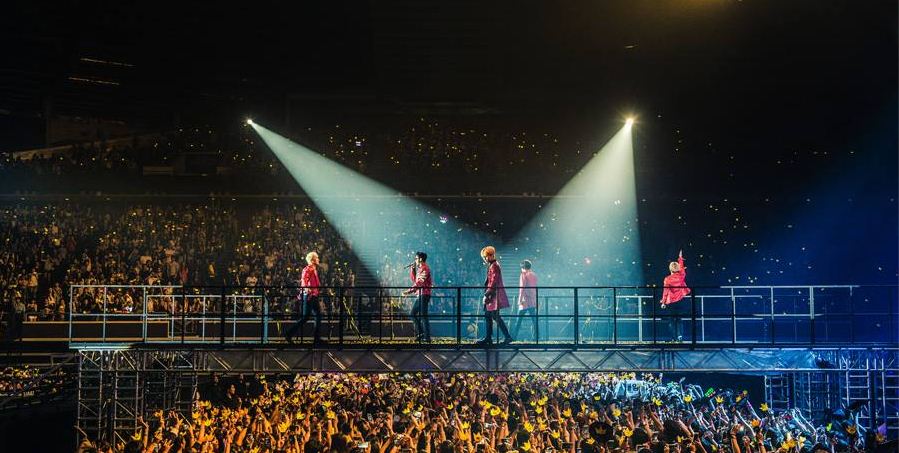 BIGBANG performs at Singapore Indoor Stadium
BIGBANG/Facebook


Admittedly, BIGBANG is one the most famous boy bands to emerge South Korea. And it is such a pleasure to watch them on stage. The boy band is scheduled to perform today (Saturday) at Jakarta, Indonesia.
"BIGBANG flew by all boy bands tropes by producing and writing their own music, forcing hardcore choreography and seeing all five members find solo success," said Billboard.
Ever since the boy band took a hiatus of three years to complete their album "MADE", their fans have been waiting to m live again. It feels like the band's members T.O.P, Taeyang, G-Dragon, Daesung and Seungri have finally heeded to their fans.
BIGBANG's world tour "M.A.D.E" has already begun. This is the band's second world tour. Their setlist includes BANG BANG BANG, Bae Bae, Haru Haru and more. So far, their music performances have spanned across China, Philippines, Japan and Thailand. The boy band has had contemporaries from the Kpop music scene such as Sandara Park attend their gigs and have received appreciation from their fans.
At their recent gig in Manila, members of VIP (their fan base) presented gifts that stand for each letter on their MADE album. "Gifts will correspond to each letter of MADE: M for mangoes, A for artwork, D for designer barongs or traditional Philippine men's formal attire and E for encore songs," reported Kpopstarz.
While their gig in Manila was a success, the band is still on the road and will be travelling to other parts of the world. Here's a complete list of where to find them at their next live music performance:
1 August - Indonesia Convention Exhibition, Jakarta, Indonesia
25-27 September- Taipei Arena, Taipei, Taiwan
2 October- Madalay Bay Events, Las Vegas, Nevada, US
3 October- Staples Centre, Los Angeles, California, US
4 October- Honda Centre, Anaheim, California, US
10-11 October- Prudential Centre, Newark, New Jersey, US
7 October- Arena Ciudad De Mexico, Mexico City, Mexio
13 October- Air Canada Centre, Toronto, Ontario, Canada
17 October- Allphones Arena, Sydney, Australia
21 October- Rod Laver Arena, Melbourne, Australia
23-24 October- Cotai Arena, Macao,
12-15 November- Tokyo Dome, Tokyo, Japan
20-22 November- Kyocera Dome, Osaka, Japan
28-29 November- FukuokaYahuoku! Dome, Fukuoka, Japan
5-6 December- Nagoya Dome, Nagoya, Japan
9-11 January (2016)- Kyocera Dome, Osaka, Japan
Source:
http://www.ibtimes.co.in/bigbang-made-tour-live-where-catch-g-dragon-t-o-p-seungri-641280