[OSEN=??? ??] Group BIGBANG performs in SBS "INKIGAYO" on the 9 this month.
According to broadcasting insiders on the 3, BIGBANG will perform in "INKIGAYO" on August 9, to unveil the performance of "ZUTTER" and "Let's Not Love", August's new songs, for the first time.
Those new songs are the ones that complete "MADE SERIES"'s fourth album "E" to be unveiled on August 5 at 0 o'clock. "ZUTTER" is a song of "GD&TOP" unit to perform for the first time in five years, so fans are paying keen attention to the new song. "Let's Not Love" has a feel that completely contrasts with that of "ZUTTER".
Plus, BIGBANG counts down for their comeback for this August with fans, in a live-broadcasting. BIGBANG had the count-down live broadcasting with fans in June and July, to directly introduce their new songs and communicate with fans by unveiling music video and making video.
"BIGBANG Countdown Live 'MADE SERIES' Gathering at YG Office" that will offer a meaningful opportunity for fans to communicate with the members right before the release of August's new songs will be exclusively live-broadcasted on NAVER V-AP on August 4 at 11pm, one hour before the release of new songs.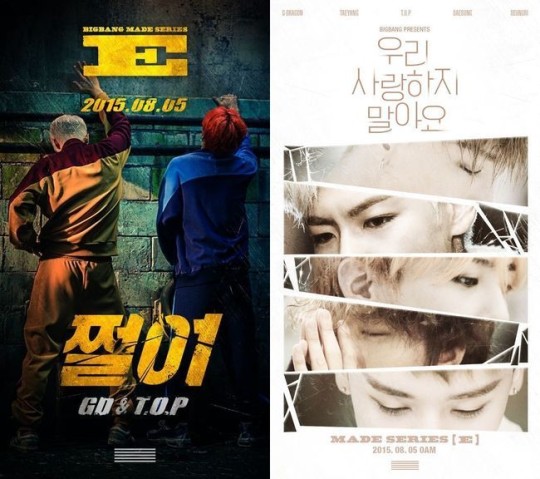 Meanwhile, BIGBANG has been creating sensation in the music scene by releasing new songs on the 1 of every month since May this year. For August, the date was changed to the 5, not the 1, and BIGBANG will directly communicate with fans around the world in the live-broadcasting of V-APP on the 4, the day before their comeback for August, after coming back to Korea after the end of their world tour. Insiders have said, "The members insisted on having the V-APP live-broadcasting on the day right after they come back to Korea, saying that they must guarantee at least some time to see fans, because they cannot perform on TV that much".
2015. 8. 3.
Source:
http://www.yg-life.com/archives/53814?lang=en