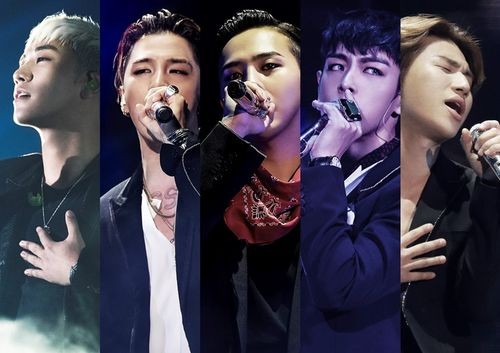 [일간스포츠=황미현 기자] BIGBANG's G-DRAGON said, "We will still be BIGBANG even after we finish doing our military service."
At a press conference that took place at 3 PM on August 4 at the exhibition hall in Sungdong-gu where "BIGBANG10 THE EXHIBITION: A TO Z" was being held, G-DRAGON said, "When your country needs you, you need to go. No one knows when it will be yet, so all the five members want to be with the fans as long as time permits."
He went on to say, "Life after military service is something that we need to think about after finishing our duties, but I believe that we will all become older and our views on life would have changed. We will always be BIGBANG. We are meant to be together. If we decide to stay as a group after doing our military service, we won't hurry to release an album. We will stand before the public when we are confident no matter how long it may take."
At the exhibition held in celebration of the group's 10th anniversary, fans are able to look and feel BIGBANG's past, present and future. BIGBANG members chose 26 words that start with the alphabet letters A to Z, and the words are arranged accordingly to match the themes of "Five Ways to Look at BIGBANG".
The exhibition offers an opportunity to see items that have significance and reflect the past 10 years of BIGBANG; such as albums, pictures, videos, interviews, music video sets, and concert stages. Some exhibition pieces have been made specifically for the exhibition to show BIGBANG's future.
Meanwhile, BIGBANG plans to carry out a number of projects this year to celebrate their 10th anniversary, including the "BIGBANG10 THE CONCERT: 0.TO.10", which is to take place on August 20.
2016. 8. 4.